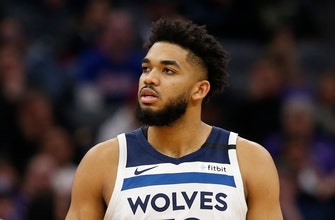 Minnesota Timberwolves center Karl-Anthony Towns is expected to return to the lineup against the Los Angeles Clippers on Wednesday night, according to Stadium's Shams Charania.
After recovering from COVID-19 and missing the past 13 games, Minnesota Timberwolves star Karl-Anthony Towns is expected to return tonight vs. the Clippers, sources tell @TheAthletic @Stadium.

— Shams Charania (@ShamsCharania) February 10, 2021
Towns has only played in 20 games so far this season because of a hand injury and contracting COVID-19. He missed 13 games because of COVID-19.
In the four games Towns did play, he averaged 22 points, 12.5 rebounds and 4.3 assists. The Timberwolves are 2-2 in those games.
More Timberwolves coverage
The pandemic has hit Towns especially hard. He lost several family members to COVID-19, including his mother.
Minnesota hosts the Clippers on Wednesday night on FOX Sports North with Wolves Live starting at 6:30 p.m.